2.5.12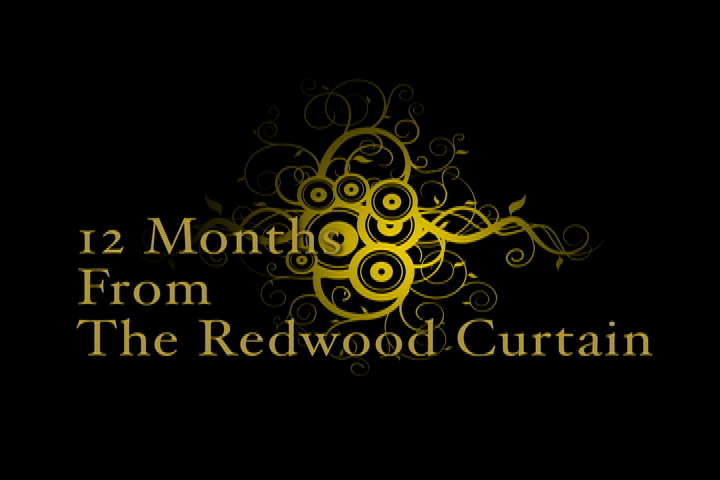 unplanned and unscripted, 12 Months is on the way and will certainly continue to surprise us along the way. one plan gave way to another during February as i strove to recover a camera forgotten at a friends in the east bay area over winter break. was lenseles for most of the month as the clock ticked away on 12 Months Part 2. As fate would have it our buds at rideSFO and Bicycle Fabrications were throwing a grand opening party at a new location in the city. Couldn't resist this chance to catch up with old friends and recover the camera to film the party's happenings. February was a short one, and even with the leap year gifting us a day we are a few days behind releasing Part 2, a taste of the thriving Bay Area scene, making us think we should creep through the Redwood Curtain a little more often. Enjoy.

1.29.12
7.22.11
envisioned sharing much more of an eipc trip to crankworx, but the demands of the mountain have claimed all our energy and focus. but better late than never the pro edits are rolling out. hope the slalom vid is a fresh step in the right direction. still in the midst of being whistlered, yes it is a noun and an adjective, and that adjective described the state of a rear wheel, a derailleur or two, and all the muscles in my body. ask anyone, conditions this crankworx have been exceptionally gnarly, even for whistler. rain rain and more rain. seasonl defective disorder had set in until the sun came out today. hopefully will hold through the weekend and the enduro starring nico vouilloz.
2.27.11
a new year a new spring, time for spring shredding. access to the sweet southern humboldt mountain cross is upon us. don't miss you chance to join the pirates on March 25th. Hoping to have a warm up time trial before, but we'll see. It is a busy world.
12.20.10
it is a day from invierno (winter), has it been so long??? i think this is a new record. almost five months with no entry.. wow. brings me ponderance, nothing is forever, not even the galaxy. and thus neither forever will i or this blog be. closer now then ever to revamping or smashing this page and mkoving on, but in the meantime piracy continues. my last entry spoke of training lulls and looking forward to fall. well fall happened in big ways and not winter is a day away. to sum up a bit,
the space twinkie orbited more then 10,000 miles this fall, with only one serious apollo'esuq espisode of parking lot repair work. the van got many an HSU Cyclist down the road this fall to places like Tahoe, Reno, Santa Cruz, Salinas, East Bay, San Luis Opisbo and more. the season was a success by any measure, HSU won the D2 conference championship again for our second time. I grabbed the D2 national DH title as well as 6th in the overall A's omnium. The omnium was my main target, lost major ground at the triple point finals that I did not attend in San Diego, but thrilled to have attended every other race and to be one of the top all around riders in the west. it was a dream, and now i have a month long rainy vacation to absorb it.
school was busy busy, four upper division classes on top on managing club and my own racing wore me thin. finished well though, enjoyed them all, learned loads, and now have a much better sense f how little i know.
thumb is fully healed from the set backs of last july, fondly remembering how strong i was when the injury occurred last summer and looking forward to days like that again. we can always imagine one better, and always dream another dream. I now take a month to mediate, prioritate, and cremate the remains of a fantastic year. ready to move forward and take on the world one moment at a time.
7.27.10
it's been a long interesting earthbanging passage through the birth anniverasry zodiac. two weeks since the skin offering and things are on the mend. had one of my first mtb rides back yesterday on the new paradise royale skills park. quite sweet, quite challengin, and quite amazing how much rust can accumulate over the span of two weeks. was it rust or a faulty thumb that still had me bothered??? i think a little of both. at least i was back on the right bike for the job. i have disbanded the TRANTHEM mut in favor of the anthem trance option. Had all my worst crashes this summer on the tranthem so took that as a sign. looking forward to august and getting back into shape. feels like a normal training lull for me through july. the fall is callin.
6.29.10
if you told me i would be excited over a temporary operating permit a month ago i would have been very confused. learning lots as i wander the wintry wilderness of automobile legality and maintenance. trapping some furs along the way so i think at the very least i will have a nice coat when i emerge from all this. my days perferably look like this (see below)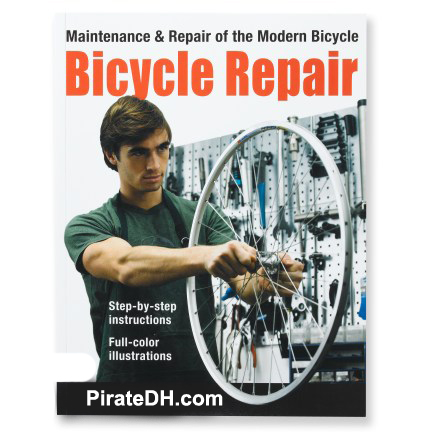 But now lately they have look for like this (see below)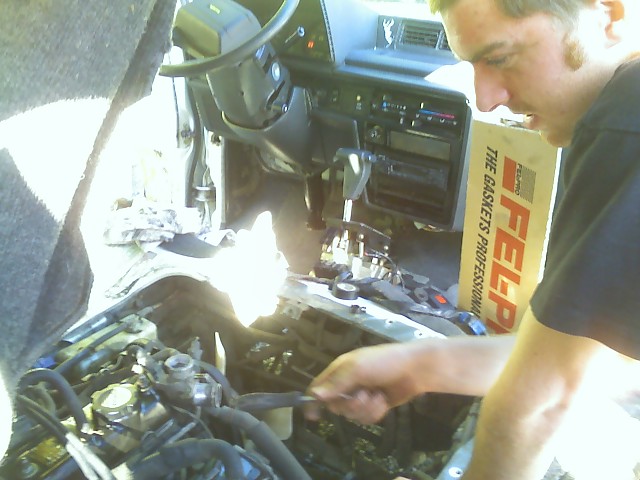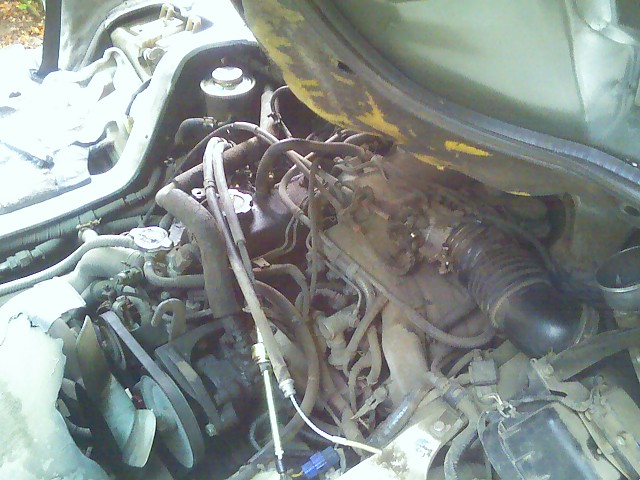 it's all good though. no where near as glamorous as bicycle rapair, what with the healthy hair and chisled jaw it develops, but always fun to learn new things. especially when they turn out to be a lot easier than you imagined.
6.27.10
pay to play, save for a rainy day, give to get... blah blah blah. wish i was in tahoe right now for the Pro GRT, but it wasn't to be. Investing in a vehicle to make our team's collegiate goals come true in a few months, so in the mean time i am missing some big rides in the interest of getting the space twinkie ready for orbit. riding just about everyday though, dirt jumping my xc bike, and xc on my dh bike keeping it real, really confused. see the view from the night van below. more to announce this next week, but for now i say just come out to the Birth Bang at Tish Tang and we can shred. Good luck to Ryan Delong today at the GRT, reppin Humboldt for all us Home Bodies.
word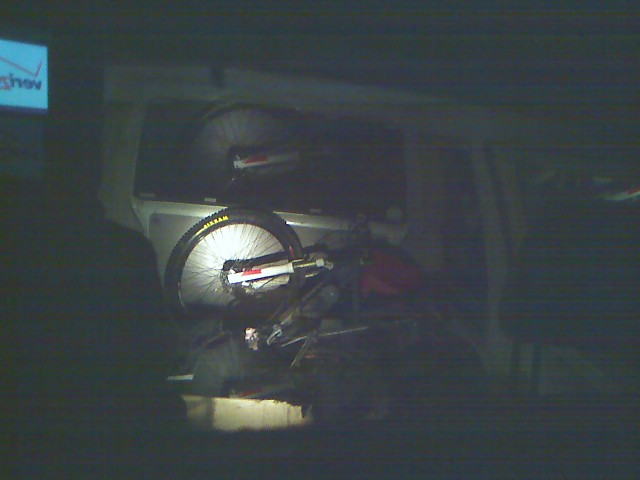 6.20.10
i ordered a motor months ago. the bloody thing has been back ordered all spring. rain check,rain check they say. well i just checked the tracking number today and i think the new motor should be here any day. checked at the bmx track tonight. tracking was hitting a couple gaps i haven't hit for a while and a couple obstacles i haven't sent at all yet. felt good. still tired from all the other pedaling lately, but good. jumps are dry, track is open, getting back into the flow of the norcal pull. hoping to get to the tahoe race next weekend. hoping to be faster someday. hoping to never surrender. that motor better get here soon, got some business to take care of.
6.17.10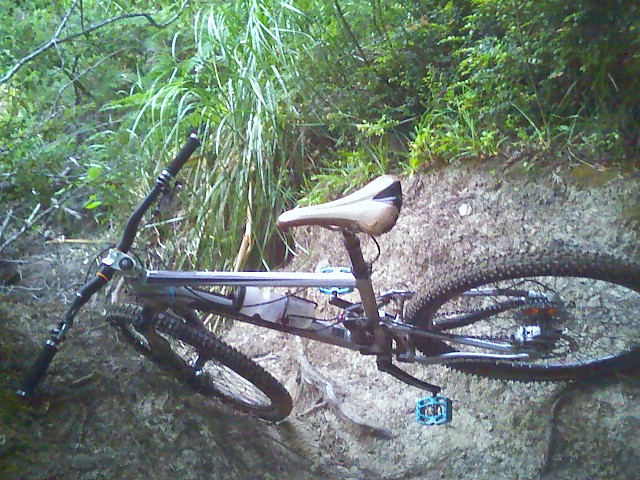 The Tranthem... This is where my Tranthem skidded to a stop tonight, me atop, as it's pilot forgot about the chute to flat that now ends the run. A good example of what can happen these days when you hang some ballsy components on an xc frame. I give you the Tranthem (Trance+AnthemxLoveChild), fast enough to get its svelt chassis in over its head. This was the bike for me last weekend at the Ashland Mountain Challenge (formerly known as the "12 Mile Super D") in southern Oregon. A thick field of fast riders, and a course long enough to shake mistakes out of the best. Was a blast, though. A 37 minute run field with mental lapses, a crash, dabs, duds, sprints, mis-shifts, thrown chains, compression changes, numb arms, barrel adjustments, mad speed, railing sections and roost. Would definitely do it again, but somehown have to do it stronger, mind and body. Outside of the racing the event was also a great time, good folks, fun town, and ideal weather. Came back with some new wheels I hope to be getting to a few races in soon. Couple local challenges coming up. I plan to ride a hurried mission the evening of summer solstice, allowing daylight to drive me up fickle and down through jacoby creek. the long days excite me and what better way to show our thanks then to stretch our use of the blessed rays to the max... under two hours, yes we can.

am6.8.10
late night entries...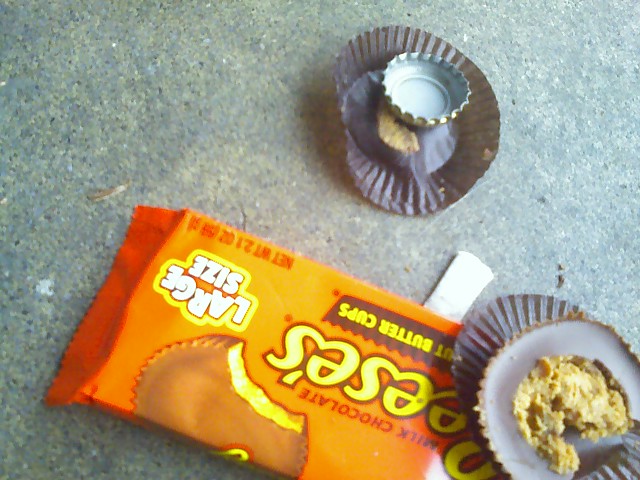 today was a rest day from the training, sort of. full court press on getting s new automobile this week, tiring and stressful but things are about to settle out. did ride a Kona Magic Link equipped Cadabra from my house to Revolution in Arcata with a head wind. Was a perfect recovery spin, had to go easy, had jeans a hoody and rain jacket on so had to go really easy to accomplish my goal of not sweating... did just fine, did business at the shop preparing for big rides soon. special tire choices, brake bleeds, and custom fork overhaul this week have things more dialed than in some time. approaching order... If I keep progressing at this point I may actually feel prepared next month and the month after that and the month after that. The idea at least... (love the ... dot dot dots, cause all histories are incomplete and no blog is thorough enough to tell it all, so those dots illustrate the moments between the lines that always exist. : ) and those symbold represent a smiling face so get with the times and accept text jargon. OMG! anyway, the evening saw some heavy laundry amidst hassling from the mats janitor. I am always a late arrival, starting my loads minutes before the 7:30pm cut off and he is always trying to close early. so tonight things got a little passive aggresive, but i survived thanks to reeses and a bottle.
am6.7.10
love the scene, invest in the future. build your jumps upon the rock mass and design your corners to drain. pull laurel stumps that will sprout again rather than just sawing them down and do not let your trail's grade exceed 15 percent. these points were part of saturday, 5 hours of polatski swinging was also part of saturday, saturday was a good day. took the leap of faith and went down the "rabiit hole" in the King Range Recreation area. The steep, foot only, access trail put 15 or so of us volunteers on a new 8 mile piece of trail that may be finished within the next year and will connect with the existing 14 mile loop. sweet right? wait there's more... here it comes. today Judd Devall and his professional jump building team are breaking ground in the King Range to build a pump track, skills park, and jump trails! so I had to/got to return today to ride the Paradise Royale with a new friend from Georgia, riding the loop for his first time. Two laps. 4.5 hours. 4,000 ft of climbing, the young man was a stud. Morning mist giving way to a golden evening. Very nice. My legs are still trying to figure out what happened. But my brian wants more. The hands may take a bit to recover from the trail work, but I think the presription is more trail days. community forest work day next week. look into it my hands must.
obsessed with world cup dh. it is the greatest. talk to me about it anytime
6.2.10
Birthdays collide, or rather reside, next month. Sean T., myself and The Code's b-days are all within one week... you know what that means? Timed runs at Tish Tang. The trails are way better than a month ago, I shit you not, some new sections that are begging for hot runs. I'm thinking of calling it the "Birth Bang at Tish Tang", has some strange rung to it, Happy Birth Bang to you, or maybe the Earth Bang Birth Bang At Tish Tang, EBBBTT. . . At any rate it will be a good weekend of riding, mark it now July 10th-11th. We'll make a campaign of it, DH and Super D, plus All Mountain Challenge?? Stay tuned for flyers and such. I invite you all, good night.
5.26.10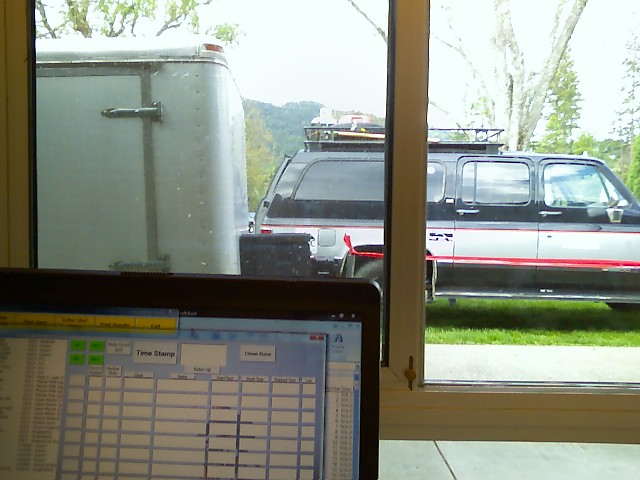 weaverville wrapped up nicely. saturday was a unique weather pattern every five minutes. ice storms, hail. rain, sunshine, averaging out to "better then expected." they decided to trim down the 12 hour event in the name of comfort, but before that happened I was able to break away from the timing computer (pictured above) and do two laps on the course. very fun but saw conditions degrading rapidly. an old acquaintance of mine won fastest lap in the 12 hour and we would meet again on Sunday when he won the Super D despite having raced six 1 hour laps the day prior. Sunday morning's Super D was hectic per usual at this one day race. Self shuttle in the morning requires 8am departure up the hill. Me and my brother made it up and came down a tacky top and slipped out bottom. Got back to finish area just in time to have missed last shuttle, so no housing the bike for me (drive train was jamming with peanut butter) just a quick spritz of the bottle and up the hill first chance. got into the run just fine, had a solid top section on the DH, had really crept first run down on the xc bike, but was feeling more confident and knew the lines just enough to open it up in the race run. Everything was smooth and fast until the single track along the creek. I had had a major slip out in the practice run and gotten chucked off the trail, so i knew to be cautious, but it was a different, mor subtle, corner that got me. Subtle right, rear wheel went, bucking bronco off the embankment to the left, 180 spin, still holding bars, land on feet scrambling not to slide down to the creek, cycle cross it up to the trail back on the bike, approaching climbv, to big a gear, off the bike running up climb. back on it. could have been worse but as the time gaps worked out this was the breaker. not to mention on other slip and off into the weeds, a one moment when i exhausted arms couldn't hold on anymore, the right hand blew off in a left hand corner and rode through it with the chest on bars knees flopping and somehow came out with enough momentum not to dab. Otherwise it went to plan and was happy with it, very happy with the bike. Tires were a gamble, went with a Racing Ralph oni rear cause most the track was smooth, hard, and pedally. It was the right choice, had i just flowed that corner better. I wound up 3rd on 27:09, think this may have been a personal best, so pretty satisfied given the conditions. Top 2 were close, Jared Kessler on 26:59 and Scott Chapin in 1st on 26:50. And yes that is 26 minutes, a very long Super D. Two significant Pro mechanicals included Kenny Burt's busted derailleur and Jeff Kendall Weeds seperated chain, they would have been right in the mix but the conditions were eating up drive systems. Mine sucked several times as well requiring back pedaling, I was lucky it didn't jam.

The DH I wasn't as worried about, felt I had more confidence on the track than most there. Conditions were more friendly than super d was well. Top of track had superb traction, big fun. Sadly the top 1 minute was removed due to a slippery shuttle road and the race now includes and addtional 20 seconds of pedaling it didn't before, times were still long ranging from 7-10 minutes. First and only practice run didn't help though. I had thrown a single ply Nokian on the back on my DH bike to lighten it up for the courses hainous sprint and get a gapped out tread for the mud. First run down I pinched it witin 1 minute on track at 36psi. So I picked my way down the remaining mile+ of track scoping it out. Got it fixed at finish and determined there wasn't enough time to change the tire back to a double ply before the race so I went straight up for race run 1 with 40psi in the rear. Told myself I wasn't going to baby the tire, all my competition in pro were on all mountain bikes and were killing the too flat bottom of the course with their adjustable seat posts, so I was gonna go crazy on the top's steep straights. That I did. Found good pace up top right off the bat, slyaing the first corner which got me ready for it. Lines weren't dialed and hit a couple ruts way wrong with little consequence which boosted my mood further. ran off the side of the fire road at one pont going to fast into a right hander, ducked some trees and lost three gears but didn't come off. took it easoer on the pedals on run one thinking of it as practice and wanting to have some juice to contribute to the next run. Turned out first run was the only one under the 7 minute barrier, so that gave some comfort and some confidence, but really I was just having a lot of fun on the big bike and was ready to push it harder in run two because that was the way it was going, harder/faster/funner/ every run. Number 2 was hard out the gate followed by faster and faster sections going down. Off line just once, into the steep part of a water bar but recovered quick. Was able to start looking much farther ahead, setting up lines a second earlier than I had in the run prior. The pumped up rear tire made a hollow sound as it smashed, was actually quite nice. Great top, cleaned the corner I'd blown in run 1, capitalized on the saved momentum there. Only other mistake was smashing my helmet into a tree in a slow and sharp right hand corner into the climb which allowed us to race around the swollen creek. The blow was solid, as I lleaned too far in, and brought me to a near stand still, but luckily it was a very slow corner anyway so I didn't give up that much. As I climbed back up to the road it took a few seconds to get up to speed and get the edge back, just consoled myself on the good top section, said 'it's not over' and put the hammer down. Caught the 1 minute rider at the finish line, just about blew off track through final momb pit, came in with legs to go, felt good. Took 12 seconds out of my first run, Jeff K Weed took 15 out of his after crashing in the first run, to take second being the only other ride under 7 minutes. 6:42 for me, 6:54 for Jeff. Love the close calls, had my share last weekend but none too detrimental, feeling the handle, feeling the spin.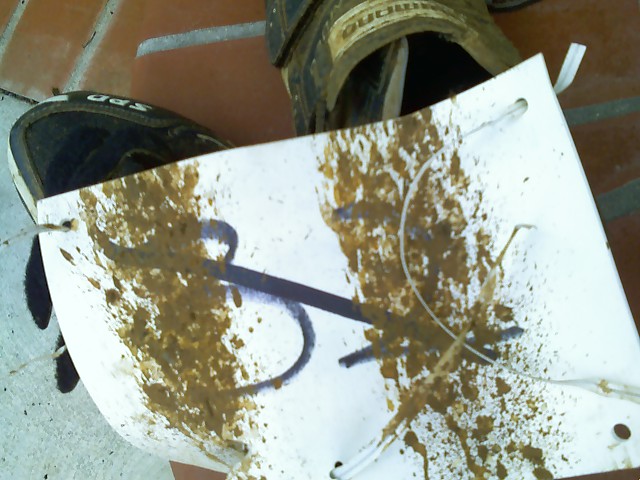 Back of DH Number Plate, spattering mud around headtube.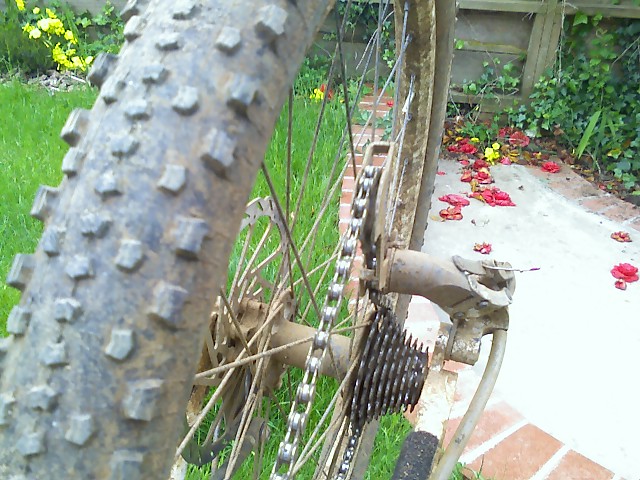 Rear Nokian, have had this tire for like 7 years, used twice.

Mud
5.22.10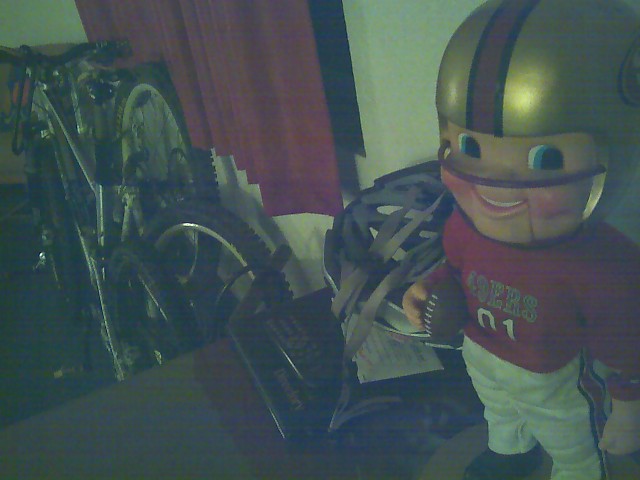 ok, write this from the town of weaverville, where this little mascot watches over my dreams and presides o'er ny future. even though san francisco is 7 hours from here the way i came, the teams's spirit is very much alive... just glad this little guy didn't do any mischief coming to life last night. or did he??? whatever he did it wouldn't top the sping storm we have been having. Gravity Day is tomorrow, skies should be clearing but temps will be low. all that uncertainty drove me to bunk up with the little 49er. Today the endurance riders test out the traction though and I get to observe and think about tire choice for 12 hours. woohoo, i love bike racing, even when it gets me up at 5am to go count xc laps all day long. no sarcasm intended. few places i would rather be besides this sport themed room in this little mountain town.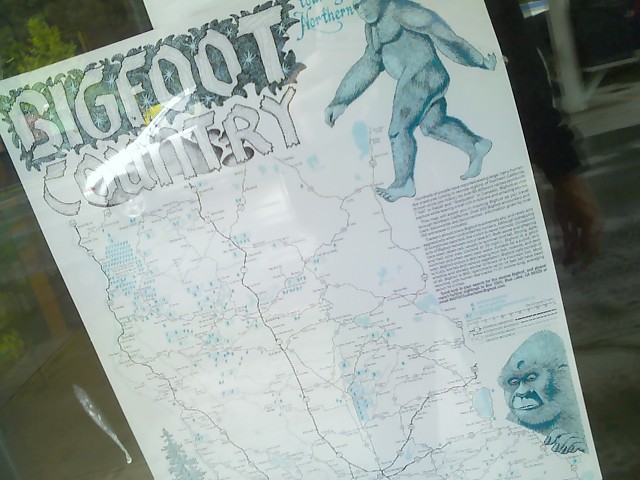 5.19.10
Exciting Spring. Half a beer to make an entry, ready, set, go. sipsip... Spring Thaw last weekend. Went well, all training for 12 mile super d apparently. Rode brains out... Started with early arrival on Friday, pedaling big bikes up hill to "Upper Links" , shred on... Raging down to town, stopped too much, missed shuttle, refuel, then reload. Three runs later we've ridden it all and blasted the big jumps. Feeling loose. Smiles. Pretty darn tired by end of day, looking foward to 25 miles of xc fire road racing on saturday and boys wanted to stay out drinking. Had my share and then called it, still not to sleep till almost 1am. 7 am next morning up and prepping for xc. raced it hard, not warm at line and legs tired from dh riding are all that kept me out of the lead group. as it was chased hard, drafted smart, and attacked on the descent. Fought through the cramps, left it all out there. Second in class and 12th overall. Mark Weir flatted out otherwise would have been 13th... Then it was refuel, relax, and reload back up to DH for three practice runs until it started raining, then shredded the river down to town, finishing with beer and food. Next day up early, one practice run, and two race runs. Legs gone, gave up seconds pushing the too big bike through the pedally course. Situation wasn't helped by a throw out of the first race runs of the first ten racers, including me... Second run was smooth as first but sooo tired, 13th in Pro, 12 seconds off win. Then jammed home that night, slept a little and hitched a ride back inland to Mt. Shasta on Monday to break in the lower section of the Entertainer and check out a new epic trail the locals are burning in. So burnt, in so many ways, by the end of the day was taking a nap on the pavement in the rain. Was quite nice. That's right five runs on Entertainer abbreviated, rocked the rocks, rode till the rain dropped and then bombed home. Last night rode up Kneeland to stretch the legs, 2.5 hours on the road bike and getting ready for Super D in Weaverville this weekend. Hear ye hear ye will will be trained up for the next big one we gurantee. ras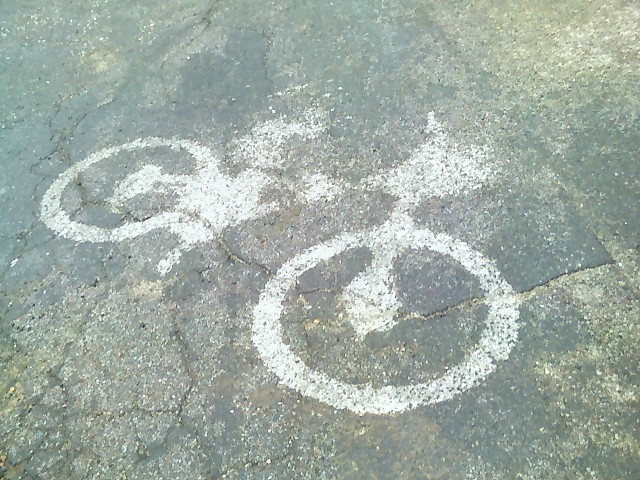 5.13.10
It's late, or rather it's early. Very Early. So much time on computers in this existence, more and more all the time, and I feel like I struggle to remain effective as standards progress. Battling software woes at three in the morning. Trying to get a consistent video editor etc. Issues. That's all. Final finals today follwed by chillin and the first ever Clamterium! A link to write up and pics is on the home page. Was a laid back good time on bikes, hope we repeat soon. I did throw up a little in my mouth trying to draft road bikes on my cruiser, but that had more to so with the beers before hand then anything. Got just one little loose end to tie before I really declare myself on Summer break, but that end is contingent on the software , so i must be patient. In the mean time headed to Ashland this Friday for the Spring Thaw. A an annual pilgrimage to the land of full service gasoline, clear cuts, and zero sales tax. We are gonna paint the town. Stay tuned for updates. Blast off in 26 hours!
5.11.10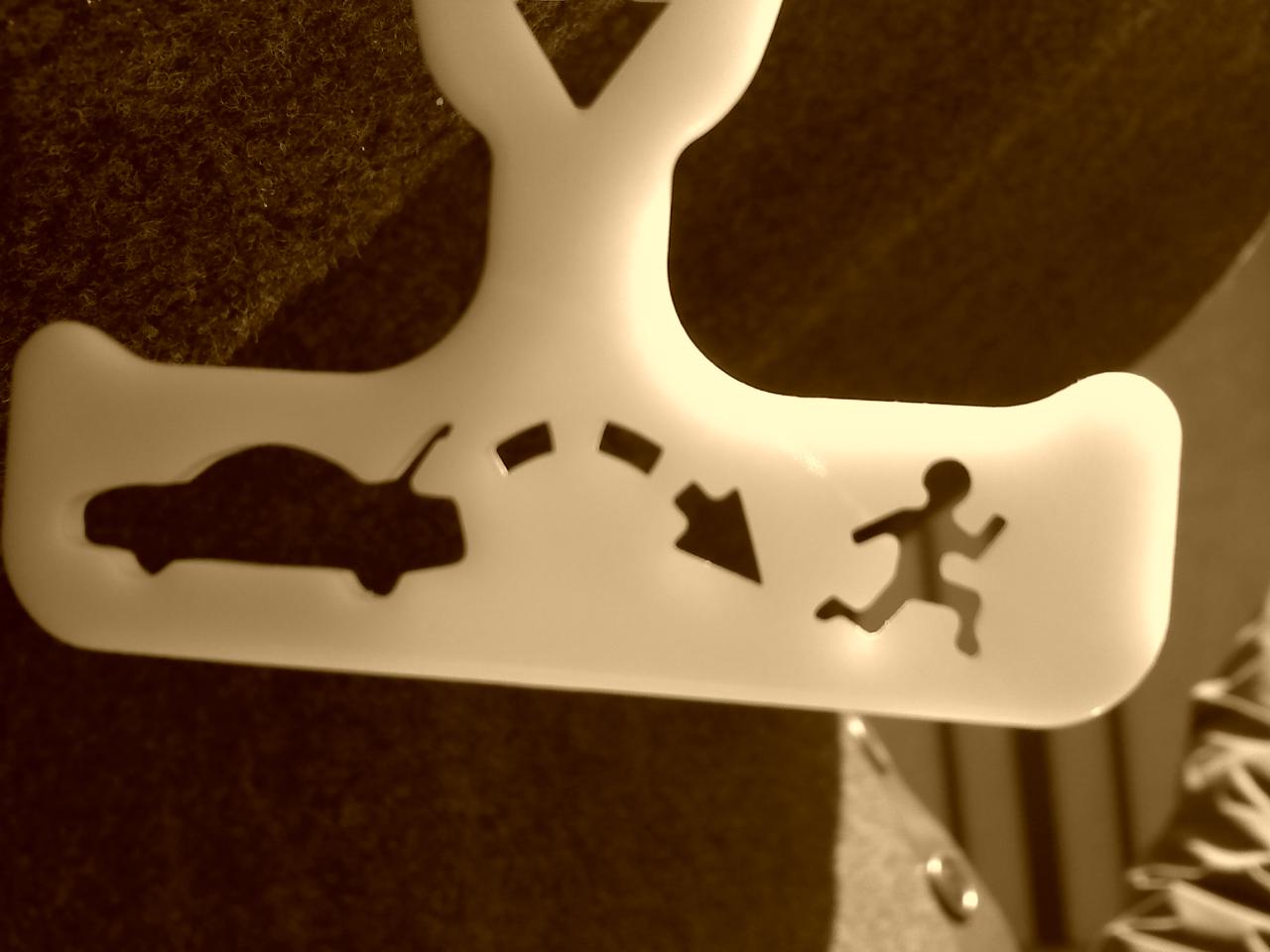 It is winding down, the hectic final month of school. A month with a hundred pages of school work created, group projects completed, presentations made, a three piece suit discovered, two races competed, one ride won, and a first of its kind youth MTB Guide Training. Many sleepless nights and early mornings later it's all but done, the chicken is in the roost, the egg's in the basket, dinner's in the oven staying warm so wash your hands and come to the table! Good marks, good rides, and good programs. Word. Now looking forward to some real time to get in shape and prep for mid season events, be able to focus a bit more energy and hopefully have some memorable performances... So how come car manufacturers prepare for trunk style kidnappings? Legal precedents? Not sure why the above pictured handle was in the trunk of my dad's rental car, but I guess it's a popular reason to rent a vehicle. To boot it is a fitting analogy for busting out into summer vacation. Hit the pavement running.
4.25.10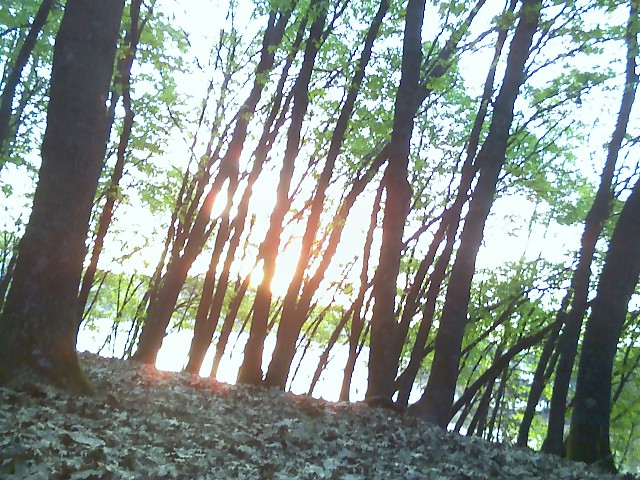 April showers lead to the wetest and best lemurian performance i've ever had yesterday. jammed over to the town of whiskey with my friend schiffty and slept on the ground friday night in prep for the notorious Shasta Lemurian Classic. Saturday morning was cool and clear with wind blowing off the lake, but temps were perfect by the 9 am race start. Without a pre ride things got a little iffy here and there on the courses XX and XXX sections, plus puddles and creek crossings were a bit more dramatic then in years passed. but kept it smooth, steady and saved some for the end. by then i had gained some confidence in the new light wheelset, after bashing them through a couple unexpectedly rough situations, and raged passed Kenny Burt in a rock garden about two minutes before the finish. twelve minutes faster than last year and still some to give, good.

on the way home Schiffter and I couldn't resist the call of Tish Tang and making it a double day... after two more hours on the bikes we had a very hard time wiping the grins from our faces. the grins got stuck during the final descent on what will be the DH course next week. A lot of work has been put into the trail lately and it is SICK. One new section, some new berms, some broomage equals fast, flow, fun. Hope many can make it out next saturday and enjoy this Nor Cal gem with us.
4.10.10
homework homework, that's what this page used to be, now it is relegated to entertainment for self or relaxation past time, when the semester ends there will be more action, I promise... there is still plenty of action, just no time to write about it here. a ride day at tish tang, in prep for a mayday dh ride... stay tuned, the trail is great, be prepared to go fast. had another collegiate road race last weekend, rode stronger, but tactically struggled, fun despite freezing temps and flurries in Reno NV. new tower and keyboard so i can really tyupe n words not control v words and capital N's are off the no no endangered consonates list. Rode the fast tuesday night ride and felt good, too good, off the front too hard one too many times and blew to the skyyyy. got dropped in fieldbrook, but luckily carl was cowbelling on the climb so i got a motor pace across the top of murray. thursday did a lab test, guinea pig style, mouth tubes, droool, electrodes in my shorts, very sexy i know. today was paradise royale in the rain. gave a poor hitchhiker a ride to his prius six miles up the steepest sketchiest road my car has ever seen, almost didn't make it. he and his girl had been back packing for four days and returned to a dead battery. we jumped it adfter consulting the prius manual and got the heck out of there, a fat tip for my troubles, but barely equalled the wear and tear, now my check engine light is on... managed to get back, meet our friends two hours late, shot swome video, and ride the loop. best traction when it is wet! so fun. now i am thinking about sea otter next week, four bikes to prep and end of the year projects approaching. just keep moving and the bike will balance.
too lazy to make thumbnails, so right click and view image if your eyes need em bigger.

| | | |
| --- | --- | --- |
| | | |
| | | |
3.18.10
Wake up and smell the roady, pretty freakin real. Yes, road racing, real, so real that my first weekend of "road racing" has left me sniffing, sneezing, groaning, and generally sick for three days. What? Yes got home after a pretty good weekend in the Davis area for HSU's first collegiate road meet. Did decent, for a C's rider. C as in intermediate roady, have to suck up any ego and take it as these powerful and fit riders show me what's up. Left it all on the courses this weekend and left some saliva on my top tube from my final lap in the criterium. Gave it my all to exhaustion and averaged a top 9 finish. Got a ways to go but that is making it fun. Road Racing is like formation flying for anywhere from half an hour to two. What the riding lacks in dynamic terrain it makes up for in dynamic racing with a lot of moves, trash talk, and strategy to keep it interesting. Feeling a little better today after utilizing a juicer and and some of nature's power foods. Road up kneeland one and a half times. Thought i was done, was heading home, halfway down, when I met some friends so I turned around and rode back up with them. We visited the airport and rode out on the runway, breath taking. Home now, nose still running, but so am I. Energy returning and with it vision. Visions of MTB season and missing road races to grind some knobbies. Easy to write about the bikes, the rest is crazy consuming but life provides exciting lessons and opportunities everyday.
2.20.10

well we've had a couple of the busiest weeks in some time. And if you are anything of a regular to this site you will know that it hasn't been this project that has been keeping me busy. nevertheless things are good, creative projects abound, and riding holds that special place in my heart. Mountain bike rides in the Arcata Community Forest have been exceptionally dirty. Road rides in the country have been exceptionally peaceful and my ride schedule has been wholely unpredictable. There are some carrots dangling before us though. The famous Lemurian Shasta Classic is about two months away, followed by the infamous Sea Otter battle at the bay of monterey. Looking forward to some competitions and trying to adapt to an approach that is not as focused as it has been in the past. Life is short and there are a lot of flavors, so I suppose I am glad that no two days are the same. Enjoy the ride, let it drift in the corners, and keep those fingers off the brakes.
2.03.10
Februaru arrives and with its arrival springs forth shoots of motivation. Big rides g'wan and it is time to put on a little preperation. This Saturday marks a surprise adventure, I am going to give the Clam Beach Run a go. A local classic for the speedy ped posse, it has some hills, some sand, some water, and about 8 miles. Gonna be great. The following weekend is Banana Slug #2 64 miles on Dyerville loop, that should be awesome. Yeah yeah, big 'tings g'wan, so much to do and so little time (the human predicament).
1.17.10
it's a happy new year. what ryhmes with year? fear, the fear i felt when the site was hacked and blocked for a few days this week and i considered losing all the old layout and much content. so now that things are remedied and i don't have to hustle through new design tutorials anytime immediate i need to learn my lesson and back all this crap up. on the flip side i am just a little dissappointed a remodel is not necessitated this week, but hopefully soon and can find the cause and motivation to change things up a bit. had a great winer break, now trying to get some miles back in my legs and some spring in my step. last nigh was a HASH Run. met a posse of folks at The Alibi Arcata after running a loop, pounded drinks then ran some more, chasing down mysterious white dots and pink arrows on the street. everyone was fit, everyone was buzzed, great fun.
12.30.09

well 2010 is staring us all in the face. right around the corner is 2012 and the end of the world for mayan enthusiasts, the end of an age for all, a potential gateway into enlightenment, consumerism and bionics on the rise, more bonuses for the bankers ruling the world, obama's emergence as an instrument of geopolitical control, some more winter pirate rides, my second semester at Humboldt State, road racing season, the list goes on and on... about to disappear into the abyss of family, only to reemerge a more fit and focused individual, i hope. Going flying and when i land will have nothing to do but drink, eat, run, and sleep, so hopefully the running will make up for the lack of riding. but always riding in the mind, and after ten years i have come to learn that this meditation does count for something. got a dirt jump session in before leaving town. first time on the hard tail jumper in months, fun. run in at the P.P. trails was a bit slick but it mad it all the more challenging, as the tires would squirt unpredictably to one side off the first table top and one would have to muster the confidence of momentum to clear the others. for the first time in my life i hit some real doubles switch stance... have done it pumping on the bmx track and at happy's old trails before, but never jumpin. have dialed though and it was just the day for it. felt weird but good weird, until second time i started trying to whip then it felt even weirder, weird like cutting the hair on the back of your head in the mirrow weird, but good. brought the whole body and mind into awareness, quite nice. wasn't nice someone had stolen my two shovels, hose, and noze from the bushes. i was expecting it, but of course wasn't hoping for it. the winter eliminated buch of the grass and weeds and i think the stash had become visible from the trail, what tweeker could resist? so in 2010 i will reinvest and reride the jumps we have been grooming for nearly a decade. i love history, i love the historical work of my friends, now if only we could learn from the past and see through this corporate media haze...

12.22.09
Tish Tangled Deeds fulfilled a need for myself, and I think a few others. A skill/fitness check in the midst of winter is always nice to keep the carrots floating in the spaces in front of our faces. More epic Super D's there are few. Was very impressed with how the course raced, felt, flowed, and hurt. It isn't very long, in fact in the future on the perfect bike a pro could probably flirt with the ten minute zone. One of the more interesting aspects of the ride to me is thinking about what the perfect bike would be... The last 6 minutes of the course reward plush stability, as was expressed by the ripping bottom halves of riders like Ryan Delong and Joel Graves on 6" bikes. Yet the top 7 minutes was won by a hardtail 29'er, Luke Ramseth. With as much as a minute of time to gain or give in top or bottom depending on equipment, It could really be won by the rider doing a bike swap mid track... The course itself was slick, fresh, and challenging. no rest. every second was pumping, cornering, jarring, sliding, or getting back on the latent gas. The new sections TP added broke up the pace in a good way, testing riders ability to recognize and respect the ever important breaking zones, and added a definite technical and mental challenge beyond what has ever existed on the Tish Tang DH. Track got bettter with every run, and we all truly cant wait to go get some more. Was great to have Chris and neby Sarah out riding the Tang for the first time. The stoke was contagious. For my part I lacked fitness, form, power, what have you, to ride the course how it asked to be ridden. Felt the speed coming around in the descent, but took too many runs to get comfortable. Felt smooth overall in the run, just saved some energy for the lower half to be safe, tore the goggles off halfway, and crossed the line without collapsing. For everyone elses part all was sick. Saw lots of beautiful drifts and tire pushes in the moist California soil. Got chased down by my brother and others on the DH, good to see the younger ones stepping up. And saw everyone have a good time. Stay tuned for another Pirate Adventure after newyears. HAPPY HOLIDAYS.
12.09.09

memories of the churn, now four days ago, the rough and tumble race that it was. surprised yet again how rough that old bag is, but still a good ride. ran the cheapest tire combo available, which were the drys that were on the bike. traction was poor, had one bail, and several close calls, but so did many others. as the race went on the ground dried up noticeably and i got a bit of a second wind, but by that point i was two minutes off the lead trio. hadn't felt great all week and hadn't prepared as i had wanted to the days before the race, regardless the top three were ripping. matt schifff 3rd, Chris Johnson 2nd, and Geoff Hales winning for the second year in a row, impressive (RESULTS). Twas a good time. Planning now for Tangled Deeds on the 19th, weather should be foul, course should be world class, competition i think will be friendly but fast. should be nice, doubt i will carry much fitness through finals to it though...
12.03.09
bizzay busy bizzy. having fun in the november sun. incredible ride last sunday following an incredibly relaxing thanksgiving break with some nice long rides thrown in. Ryan Frame took me and a few others out to "The Track" in Southern Humboldt and, aside from getting lost too far down the dirt road for half an hour, I had a fabulous time. Even the crushing headache and chills from the bottle and a half of wine i had taken to my dome the night before couldn't spoil the fun. Run after run, line after line, jump after sweet jump. All of it freshly racked and prepared for our arrival. Amzing. Hope to make another trip soon and bring back some media, because words just can't describe. Also hope to finish soon to hit the "Truck Payment" a wood to wood road gap that words can also not describe fully... but if they attempted it would be something like "steep loose chute to north north shore elevated bridge to dump truck sized 30+ drop/gap" what? exactly, head scratching until you see Frame dial it run after run after run... With names like "30/30", "Fluezzy", "Boner Series", "Bannana Jump", "Numbskull", and so many more, The Track is an instant classic thanks to Ryan "The Human Tractor" Frame. But until nxt time I will be banging out A's on finals, riding xc till I force my folding SID to fail (4th warranty this month), slaying the stomach churn and preparing for tish tangled deeds. So let's ride, let's dig, let's pay it forward.
11.23.09
sunny november. break from school, riding bikies, whoopee. stomach churn around the corner, have vowed to be strong. missed the last local cross race so looking forward to this one. had a grand opportunity to shoot pics with a MTB Action photographer yesterday. He was ecstatic about our location in Trinidad, so we might have just bagged a cover shot, which would be amazing. wasn't any technical or over the top riding, but highlighting our coast and my un-waldoness.
11.11.09

well i was quite the eager beaver for the collegiate conference champs, but sadly the mid november Davis race was cancelled, making the Santa Barbara race that I'm not going to the finals. boo... hiss... worst news in awhile, oh well it all happends the way it should. but felt like that guy on the pirate headlines with the fork dropping out, had a hard time motivating to train through the next few weeks, but there is still the Stomach Churn Classic on December 5th so we'll try. not that it has worked the last week until today got on the road bike in the rain and rolled three hours with Shazo. Lovely fall day.
10.27.09
san jose collegiate races this last weekend. quite an eventful trip, though not quite what i had in mind. arrived friday night at santa teresa park determined to pre ride. being the naive country boys that we are Schifter and I didn't anticipate encountering the urban phenomenon of traffic and therefore rolled in to the park that closed at sunset right at dusk determined to pre ride. haven't pre ridden an xc yet this year so this was a must. not 20 minutes in to the loop, 6 + miles or so, I sliced a sidewall on the rocky descent and of course had a tube but no pump. so matt rode on as i walked/ran out to car. got there and matt was no where in sight so packed up, took off my sweaty t shirt, and made a phone call. just then the sheriff rolled by with his bright spotlight telling me it was time to go. he pulled i behid me to get a closer look, and i began to walk toward him in a foolishly friendly manner. perhaps it was my shirtlessness that frightened him, or maybe the sweat gleaming on my barrel chest in the white light of his spot. whatever it was i apparently threatened him and things escalated by way of an angry voice coming over the P.A. telling me to get back in the car. He came over and we started to chat about the finer points, it seemed this was the first time he had ever had to deal with sunset delinquents in his park and was overly flustered as he came to accept that there was a rider somewhere on his trails in the dark. told him i would drive out and he could lock me out, my friend could figure it out, he had to think about this hard. luckily he didn't have to risk his fragile head i thinking much more as matt rolled up right then. he started to load his bike but was cut off by the blar of the P.A. "Meet him at the gate!" so we did and managed to roll out without a fine or further entanglement.
after the flat that night i had to think long and hard about tire choice, tube arrangemet and desired pressure for the next day. as it turned out made all the wrong decisions, but you can't win the slots every pull... race started well, was looking at my best finish in xc this season, likely a top five. was just starting to get my flow on and gai ground in the second lap of three when i pinch flatted in 400 gram tire. had it fixed before i lost any spots, and dialed my CO2 generator in for its first race use ever. only to learn my spare tube had holes... luckily two tubes came my way from helpful citizens, but my pump was small and insufficient. so a long time later i wrapped up the fix and gingerely finished my lap wary of pinching. next lap had a little more confidence after clearing the first two flat spots in the descent, was trying to put a pedal in while turning around a rock when my chain popped of the big ring in which it was residing and I went OTB superman style. managed to limit the damage despite the likely hood of meeting rock to face and continued fuming a bit sore, and frustrated. then guess what, shortly after i flatted again... the downward spiral of fixing flats in a race with a meager air pressure vessel had victimized me again. luckily i had one tube left from a good samaritan, so fixed it up and tootled in to finish bloody and dissappointed. although my negative thoughts during the race had me convinced i was through with xc that passed and i competed in all three reamaining events. the Hill Climb Time Trial was that afternoon, did ok but the course had a few too many false summits for me and I peaked too early and popped hard, but a good feeling to ride over threshold up steep gravel pitches into the unknown blue yonder. next day was short track, all but four turns and five feet of elevation change, got dropped four laps in and then things got worse as my bars began to slip back, momentarily giving me an aero advantage, before slipping past the point of comfort and reasonable control. I managed to finish only one sport down from where i should have been thanks to a cagey draft and sprint on stanford at the line, thanks schiff. then came super d, my specialty, except my legs were spent, it was an uphill lemans start and an uphill fire road finish. wow. actually had the lead after the transistion, but didn't have the power for the hole shot and wound up fifth, held the leaders through the rocks, but they out powered me every where we put the pedals down. so with a month to division champs I plan to train some and bring legs better equipped to vie for it in every race at bogs.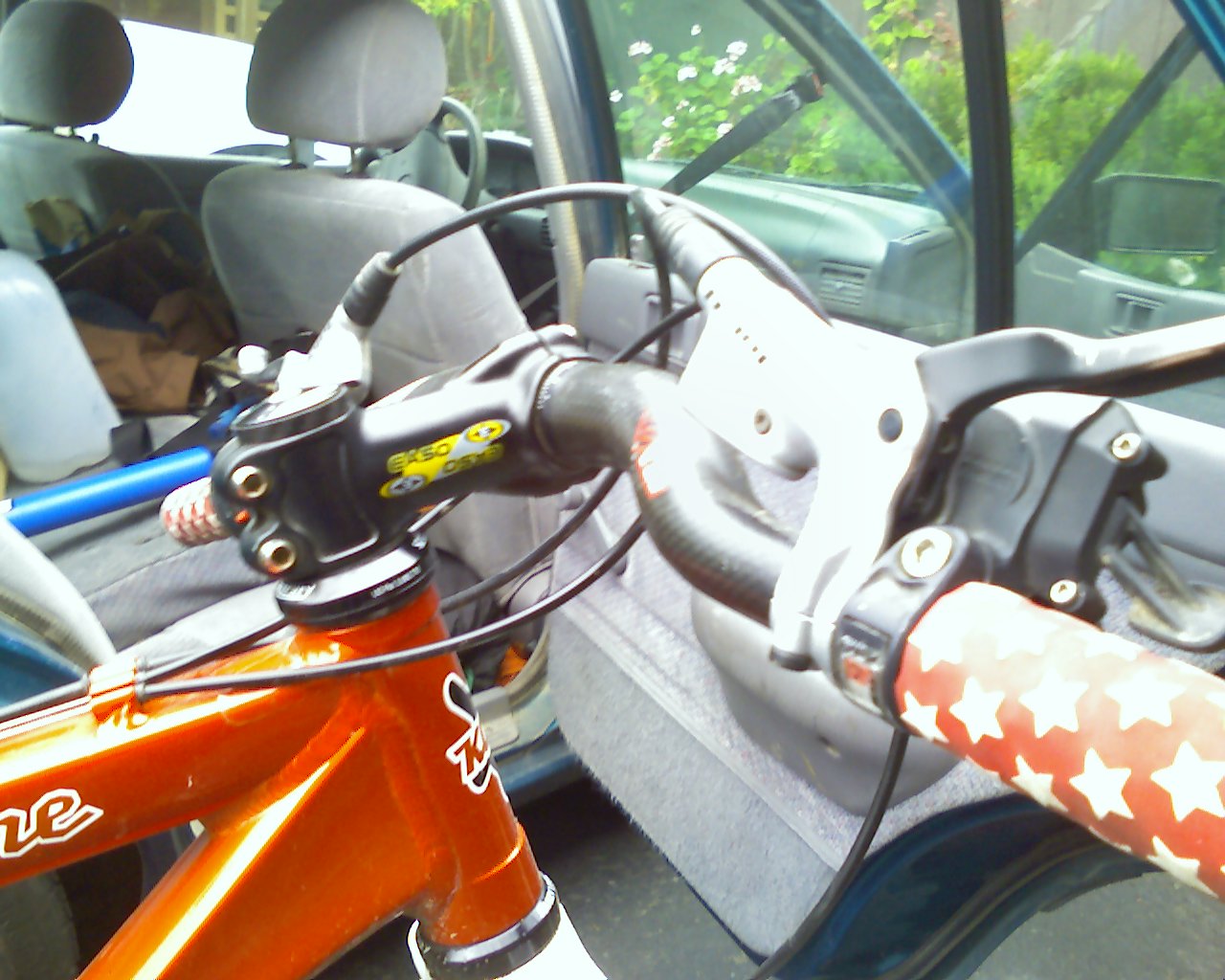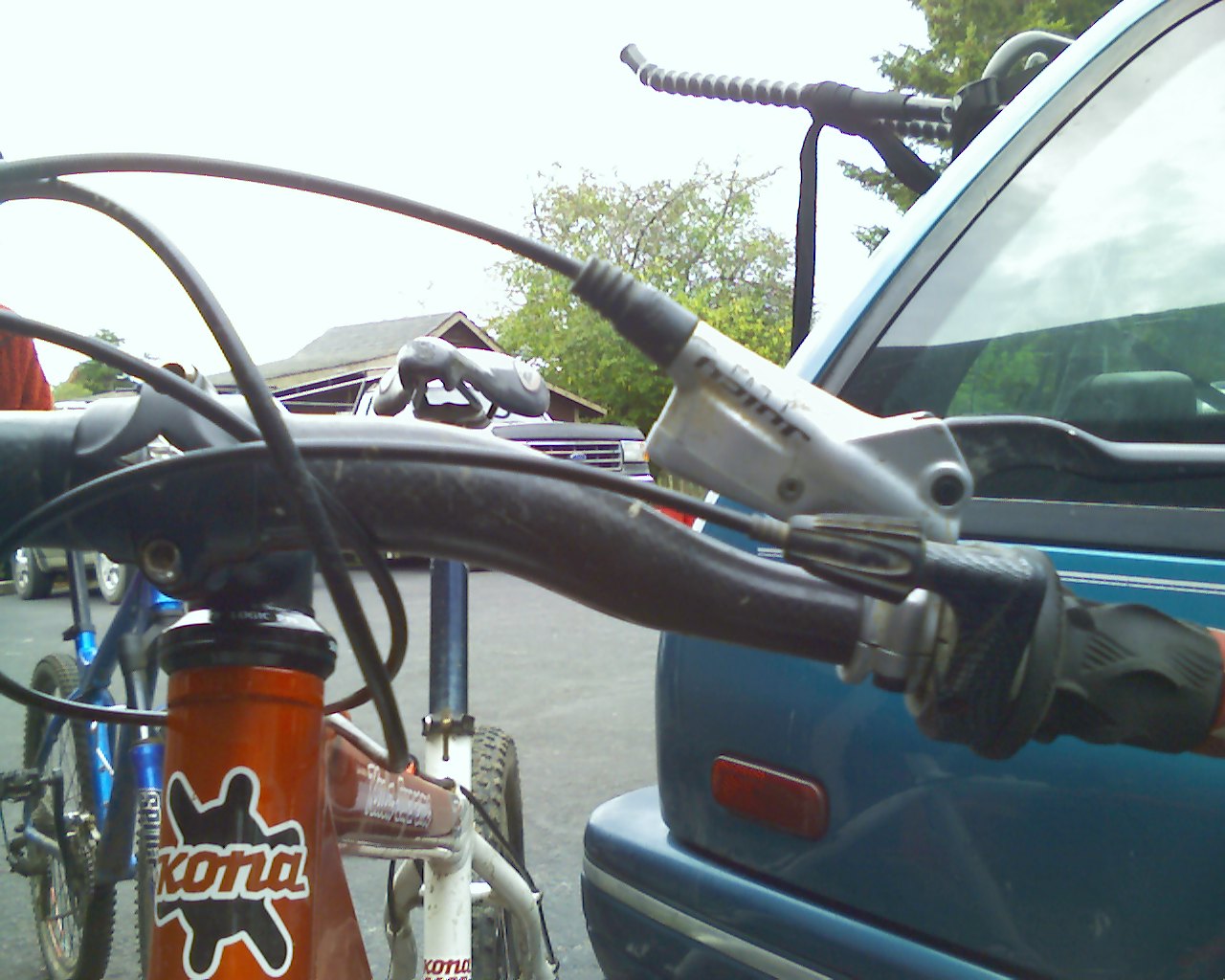 10.19.09

so long north star we love you. only time i got to visit nor cal's favorite chair this season and it was unainamously the best conditions of the year. moist soil and awesome tracks. didn't walk away with a stars and stripes jersey, but did walk away feeling like I had performed well. blew off a lot of rust this weekend, both in terms or riding (especially the big bike) and race prep. had been months since I had been to a big race, and the first I have attended as a student athlete, valuable lessons were learned about time and stress management. by sunday i was back in race head and got my t's crossed and my eyes open. saturday was 4x finals in the afternoon. had trouble bringing myself to focus on itfor fear of sacrificing a result in dh. got a late start to practice saturday morning as I wanted to watch my teammates race the stxc and cheer them on. Luke Ramseth pulled an impressive 6th place, and Matt Schiff a strong 13th in a deep and very fast field. no regrets for sticking around, it was fun to see. but by the time i got back in the lift line it had swelled, last weekend of the season, and took awhile to get up to the dh course. two runs down practice was going fine, got up to the top for my third in perfect time to finish it and get cleaned up for 4x until I noticed my rear tire going flat halfway to the course. so turned around and hike it back to the chair. of course they didn't have a pump, and of course i had to wait almost ten minutes for a "down load" chair. I then spazzed on loading the bike, almost left the platform hanging from the bike rack, jumped off with the bike cursing... the liftee was nice enough to allow me to load on the next chair, apparently my urgency was noticeble. rode down to mid mountain where shimano was offering neutral support, but no tubes. so down loaded to the village. ran into the bike shop and asked if they could change a flat righ now... no repairs in progress but they started arguing over who would do it. they unlucky volunteer then proceeded to look at my bike like it was an alien space ship until I told him I would remove the wheel and install it. so we walked into the back of the shop only to find out they were out of the appropriate tubes. so i ran out of there and began jogging my bike back to the condo, now less than 30 minutes until 4x practice closed for qualifying. in a panic i tried to decide whether to fix the flat or switch # plate and left pass to the small bike and thus commit to it for the 4x which I still did not know the final course... decided to take the big bike, got it fixed and raced back up to arrive just as qualifying began. it was first come first serve and i was going to be last in line. so i walked the whole crouse and watched, gathering beta and became more and more unhappy about my decision to bring the big bike. it was clearly going to be a race for the first corner and mos the competition were on small bikes or hardtails... after an hour sitting around i was freaking out, wishing i wasn't racing 4x, wishing i wasn't racing at all, wishing i was shredding every trail on the mountain taking advantage of the sick dirt and this one visit to n.star to progress some. decided to do another run to loosen up, as there was still a substantial line. ran into Luke and Matt at the bottom and expressed my concerns to them, I wanted to run back and switch bikes, but i had dallied too long. so they got on the phone and got a hold of the other guys who agreed to bring my other bike and all the necessary tools to change pedals, plate, and pump tires and shocks. i felt bad asking for such a favor, but Dustin and Winston were champs in offering to help. In the meantime I had to qualify, so i rode the chair back up and got back down to the 4x course just in time, 5 riders yet to go. I ran last and pedaled the big rig for all it was worth, boosting a couple jumps well beyond their landings in the process. surprisingly qualified 3rd and headed back up to the top to stat the rounds, as D2 men were first. on the way up someone told me my bike was somewhere on the hill, but i couldn't wait, said if they saw it to send it to the top. things stalled out longer then expected and they they appeared and we got it all online. was very unsure about jumping into the finals on a bike with no practice runs but knew it was the only way to hang. first round for some reason they negelected to give top seeds lane choice and i wound up on the outside. but i powered down and cut em off creating carnage right out of the gate and I was able to easily ride down in second, getting a feel for the bike and realizing it suited the track perfectly. an interesting development appeared in the subsequent rounds, a loose rocky inside option in the first corner that was a guaranteed pass if you could clean it. the catch was about half the people taking it were crashing. i studied it, but without gettting to run it once i decided it wasn't worth the risk unless I was trailing, in 3rd or 4th. made some adjustments to shock pressure and gear selection and flew through the next round easily, confident I could make the final. in the semi i got a good start, right on the 2nd place qualifier who took the whole shot, i was on his wheel into the fist corner when third took the inside. he took it slow but succeeded in cutting me off forcing me to shut it down. i rode his wheel the rest of the way but couldn't make the pass. so into the consolation very dissappointed. after getting gamed out of the final i was not going to get less than fifth, haven't ever felt the first corner commitment like i did this weekend. I took the hole shot, second tried the inside, but i had a big enough lead, stayed in front and won the heat. 5th. rode the gondola up in the dark that night to a fun awards banquet, lots of costumes, comradery, and positivity. the collegiate scene is a great one. the next day was dh and the schedule was not to my liking but i got over it. qualifying at 9:30 for me, no practice, finals to start at 12:00, no practice in between. felt far from solid on the track, still hadn't totally decided on numerous lines but that's racing. showded up and put down a mediocre run in the morning, couple dabs and ended up 4th, a ways off the pace, but also a ways up on 5th. so knew where I needed to clean it up, knew times were going to come down a lot, knew i couldn't back it off at all. run wasn't untill 1:35 so got to chill out, eat, and relax till it was time. this day i took a backpack with pump, tubes, food, water, jacket, etc. so of course nothing went wrong, the way it should. got to the top after a little pedal around the top of the chair with ten minutes to go, got my backwards pedal on and rolled to the line with i minute to go. the run went amazing, now amazing is relative. not amazing like Joey Schussler fast run of the day, a 4 flat, but amazing like i cleaned sections I hadn't for two days, I nailed lines I had been missing all weekend and I made no significant dabs despite the uncertainty from my run that morning. felt really good, really loose, really smooth, flow. threw a big whip on the last big jump for show, my last goal, almost squirrled out and crossed the line into third, a mere hundredth between me and fourth. yeah.
10.16.09
the stars are brighter in truckee. rolled in at 2:30 this morning, couldn't find my condo, and didn't want to risk waking the guys before the xc race, so i bedded down in a parking lot planter box and called it a night. a cold 4 hour night, but a night. got a nap in later after the sun came up and i found the guys. then watched a very exciting xc race and ran the feed. next despite hobling on a bum knee i was able to ride pain free and happy. seven runs. four on dh and three others. dirt is moist, incredbile, best n.star conditions ever. lots of fast guys here and lots with local knowledge. excitin. and a 4x i think i will race my dh on, body's too sore to risk banging on the smaller bike. practice and 4x quali and finals tomorrow at the collegiate national champs in truckee. M.Schiff was 7th today in D2 xc, which is hella studly given the field. and LukeR. was 12th. all studs, good buds. good night.
10.07.09
another exciting weekend ahead. steps have been taken to step up the bike and kit a bit, in response to poor performance from man and machine. knee has needed some tuning, so have tried to take the necessary steps to improve things. supposedly tracks are in toro park, monterey. means the hard tail should be fine in the xc, and mid bike perfect for dh. good odds. still feeling off, chico was a major task for me and recovery is just now coming around. but was feeling much better today, and mentally i'm hungry, so as my coach saysl, "we'll find the new pain"
9.25.09 moving right along. headed over to chico today, first time there, to race the first collegiate stop, the bidwell bump. was a bit under the weather and busy this week so didn't prepare quite how i had hoped, but i think the base is there, so i'm ready to go have fun and make a showing. the thunder bringers are holding an all mountain category that looks awesome, wish my trance was a bit lighter and a longer seat post, but i've been loving my kula so defintely going to rock that in the xc. results in a couple days.
9.18.09
few and far between here eh? not sure anyone is hitting this site, and honestly i ca't blame you. a nice archive of Humboldt riding, but as far as fresh intriguing content... we are lacking. it will be here another year, but i can't make any promises. Time taken focusing on other things. Right now one of those is collegiate cycling, trying to be fit and trying to get to some events. Feeling good on the bike, getting there is the challenge. But at any rate be headin to Chico next weekend for the Bidwell Bump. Hear the course is rough, rocky, and so on, so I am excited. Let's hear it for the green and gold.
8.31.09
school days school days. procrastination has seldom brought me anything good. it does buy time and bury responsibility. but when that bugger bears his ugly head it is always way smellier after rotting underground for several days + than when i dug the hole and put him down there. about to settle the last of the nagging issues with university enrollment and that feels great. and on the verge of settling my fox 40 issue that i left dormant after the rough mt. shastarama. smashed the bottom of my fork good in one of the steepest notchiest rock gardens i have ridden, first time i have signinficantly hit the Foot Nut Cover in about five years on the fork. examined it today and appears to be little more than superficial blemishes. sweet. so i'll pour some neosporin on it, hydrogen peroxide inside and a bandage on the stubbed toe and should be good to go for collegiate killing in three weeks or so. now just gotta get back to spinning to rehab my knee to shape to push the big beast. 41 pounds isn't what it used to be.
8.24.09
okay so it is clear i am a bit out of practice here. summers busy, technology marches on and computers breakdown. did just renew this spot for another year, so i'll try to make it worthwhile... recovering from the 12 hours of humboldt two days ago. first xc event i have sorta trained for in some time and it payed off. me and my teammate did two more laps than we had hoped for, sixty miles a piece. and i surprised myself by accomplishing my other quiet goal of pulling fastest lap, and did so without completely bonkin at the end of the day. did it on the first lap with one blown corner and a stick in my wheel that stopped me toward the end but guess I climbed hard. went for it the next lap, and had a great lap, no dabs, warmed up, and good climbs, but no replacement for fresh legs. fast lap was 36:59, next one was about 30 seconds slower. stoked to be the only one under 37, but all i think about are the seconds I left out there. still felt like hell that night and missed a couple of good parties, but was worth the sacrifice for a solid performance. too much gu and heed drink, takes time to get back. and maybe too much champagne, but that's how we roll. liked the course, loved my kula, feel like i am hookin a little more every time I rider her. a new sid is gonna replace the phony fork on the front end this week, and then it should be ready for some collegiate racin. first day of school was today, so far so good, except all the new mandatory websites have me super confused. hope i acclimate soon.
7.30.09
It all comes down to the sun. The source of all life, the energy that keeps us ticking. most of the time arcata/eureka is too fogged in to tick, so one has to ride up the hill to have a gander above the clouds. Did so today with a tidy lil couch mission before lunch. Got my sun on for a while and the rest of the day was better for it. Sad news in computer land, my old archive of a tower was declared D.O.A. so now i've got to go about building a new one or externalizing all my film work before I can get the DVD's rolling again. In the mean time I've got some t's and zip hoods to sell.
7.13.09
who like voodoo, who do? ubuntu! after a business freezing computer crash again last week I have a fresh open source start thanks to my homie. ubuntu, free, open source, non micro soft p.c. operating system. still getting my bearings but seems to be pretty slick. so hopefully content with get back to some regularity. today's my b day, gonna go ride with my brother. gonna go try out my new five tens. been wanting a pair for 3 years, so a review is sure to follow. may make it to the shastarama this weekend. in prep i am gonna go push my rig today. ras.

7.06.09
lawdy dawdy
nothing has been so exciting or pertinent to our page since the Open and the page has layn dormant while we rested and refocused. been busy though. riding every day, putting that before computer time in these long summer days. took part in a fun trail work session in the kings range. went something like this "Saturday was a great day on the trail. The hottest day of the year, lots
of good work, we ran out of water about an hour from camp, one guy puked, a
couple crashes, what could be better? Only the great beer you'd brewed
that was waiting back at camp."
5.27.09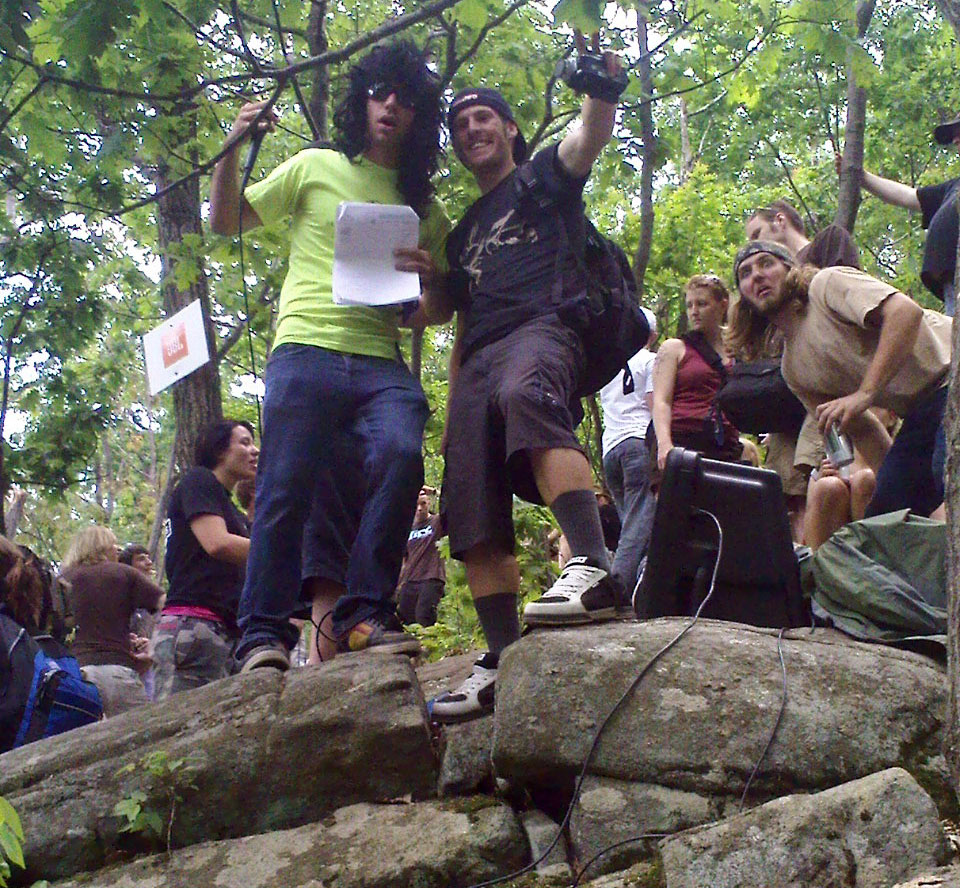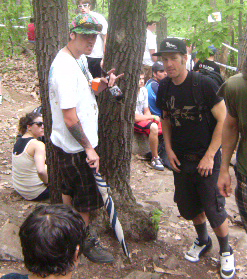 well the east coast mission comes to a close today. boarding a Boeing 737 in about five hours and headin back to cali. will be finalizing the finals vid in the air. haven't had time or desire to complete it amidst washing clothes, shipping bikes, and saying goodbyes to fam. still impressed with the U.S. Open experience. the folks at Diablo do an awesome job of turning it into a festival. above left i'm pictured with special guest DJ Sploogee, who they flew in from Germany to M.C. in the JBL rockgarden. Played more rock, metal, and horror punk than he did techno, but nobody was complaining. above right, me and the broken man, equipped with media passes and a mission to spectate like no others. would have been fun to be in the big game, but had a blast watching and filming. hope i can get to another event soon, keep the spring momentum rolling. could definitely handle doing this for a living. couldn't you?
5.25.09
it was crazy. let's leave it at that for now. moving pictures are worth a thousand words, and boy oh boy do i have some words for you... hunkered down to bring what, I thin, is going to be some of the best U.S. open Footage this year, to you. wasn't easy, but we do it all for the footy. And for two boys, and one outdated camera I think we did damn good. you can never get it all, but wait till you see what we saw. stay tuned, amidst packing, shipping bikes, and flying back to cali there will be a video up in the next 48 hours. cheers
5.24.09
well today was an interesting day on the hill. down on myself mostly. after years at this game i still can't pick a good line and stick to it. struggled in dh, put down a pretty embarassing time, and the worst part was it was about the best i had... loads of reasons why i didn't make the top 60 of 110, about 80th. but what it comes down to is i wasn't good enough today. so again diablo gets the better of me. started sandwiched between Rando and Carter, thank god eric didn't catch me. followed up the dissappointing dh quali with a turn in the slalom final. awesome feeling to be in the game with the big boys. was pretty pumped, and feeling fast come race run so i went for it. first time i had actually GONE for it in days. dabbed, then crashed. but felt sooooo good to actually hang it out, to feel some real speed and not just put down a cautious run. but by the time run two, best of format, came i was tired, arm was all bloody and i just wanted to get down without incident so i resorted to my brake dragging, cautious self. another emabarrassing time, but that is how the cookie crumbles out here and i deserve it. would like to think i will step it up a notch some day, we'll see. filled with vigor and vim right now if you mention the races, only consolation is at long last i am realizing my dream of pirate event coverage on demand. but it is pirate, shoty, and barely holds up to all that is out there now, so why do i stay up until two am to render it, guess i'm stubborn. looking forward to watching the runs tomorrow, but a bit bitter at all those bastards who mastered the rockes faster. sorry to seem grim, just being honest. need to get tough and ride for real, don't let isolation bring down my bar....
Video Day Two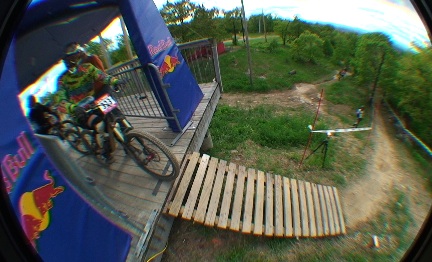 5.23.09
day two is about to begin. late night after a long day on the mountain. day one was good. sunny hot, looks like it might stay dry this year. lots of world class company, gee atherton rode my ass and i didn't even know it... hill and faivlough are looking super human, and steve smith is taking the dh apart. after a hard day of dh practice on a very challenging course i went to the giant slalom, no expectations, but a quick quali run barely got me into the round of twenty pro final today. yeah, good feeling. so have to try to find more speed this morning, and then make up my mind about the many line gnarly line choices on the dh in practice from 10-12 and do my best to smoothly qualify right after. check out some sweet video shot by joel yesterday, very exclusive, very pirate, very prompt.

5.21.09
tomorrow's the big day. the U.S. Open begins. The trailer is packed, the bikes are tuned, and i am exhausted... felt fine this morning, but a week of touring etc feels like it is catching up with me. actually feel some sickness coming on. so not drinking much tonight, alcohol that is... eating some fruit and taking some vitamins hoping a good night sleep chases the lump out of my throat. spent the last two days in washington d.c. and wouldn't trade it. had to be done, and did it well. plus got two nice bike rides in, one in maryland, one in virginia. blah blah blah, saw much and had a great time, but i can't even write about it now, so foggy feeling. gotta be up and out the door around five am so i am off line and getting horizontal now. more soon.
5.18.09
expect the unexpected... Our trip started off with a bang, or perhaps a bust. Arrived at Mountain Creek Resort on Saturday, bikes tuned and anxious to ride. After sign up and the necessary b.s. we were up the hill and on the course. a 2-3 minute rocky bust, fun, some pretty flat sections requiring a lot of power, followed by a couple steeper tech chutes at the bottom, leading into some high speed grassy corners at the end with strategically placed water bars to add to the flavor. First run Joel flatted due to a single ply rear tire, no good. He got that fixed and swapped while I did another run and inspected things a bit. We got one smooth run in together checking lines. Then the next was a bit harder and Joel flatted again, 30 pounds in the rear wasn't enough for him... We took a break, got that fixed, ate a bit, and headed back up. Peeled off a pretty quick one with fresh arms (first big bike race in months I had some serious hand pump going on) then back up feeling pretty confident now. We headed down the linking trail to DH course. I stuck to the route we had been riding, Joel opted for a new line. I got to the bottom, and he wasn't there... waited for several minutes, no sign... hiked back up to find my worst fears realized... he was laid out on the side of the trail with another rider standing over him. Hoped it was just a bell ringer, but as soon as I got to him I knew it was much more. He was having trouble breathing, could barely move, and could barely speak. he had a look in his eyes I haven't seen before. I checked him out a bit, limbs were ok, but a blunt trauma to his side was the issue. Afer several minutes I got him up, and walked slowly back to the top while I pushed his bike. once there the pain intensified. soon became clear he wasn't getting back on his bike, and with the medics at the bottom he had no choice but to ride the gondola down solo while I rode down to meet him. took the emt a while to get there, decided it was worth the call and so the ambulance arrived to give him the first flashy coach ride of his career. The local hospital was about twenty minutes away, there were still two hours of practice left, and I literally had to tear myself away to do the right thing and pack up to head to the E.R. once there I was glad I did. always nice to have a friend around in these times. took awhile but they got him to x-ray and c.t. and confirmed three broken ribs in his right side with a partially collapsed lung. the head doc arrived at about 5pm to confirm he would have to stay the night to ensure his lung didn't worsen. bummed. so after we got him checked in, into his room, and situated I headed out to out hotel alone. needless to say this really broke my spirit about the weekend, the trip, and racing in general. had a hard time that night working on my bike in the room, wondering why why why. meanwhile it thundered and rained heavy outside. by morning the storm had passed, but my mud tires were on, and off I went to the resort. started peeling off runs and getting back in the swing. actually liking things wet more then I had the day before. practice closed at noon and my older brother showed up having just visited Joel in the hospital. brother Sean and his friend suited up and after my final practice run, hard and sloppy, we went up for a fun jump run before the race. this was a mistake, should have been resting, hands and legs were burnt from sprinting through the mud, but I wanted anything but to take the race seriously. didn't clean my bike either, whatever. the atmosphere was casual, and my heart was barely in it. the run rolled around, jabberd with some columbians while I was on the ramp, too distracted, good snap, but thought I jumped the light, and was suddenly everywhere but in my body. haven't been so distracted in a race run for a long time. guess it has been a long time since i've done a real dh run, but as soon as I hit the first rock section I was thinking about the guys behind me and what they would be doing, so on and so on. missed some key lines and speed up top, and then just tried to flow and ride the rest, not sure where i was going. by the steep chute at the end I felt extra cautious cause I had already made so many mistakes I didn't want to totally blow it, too much brake. no big dabs, but just not hitting my lines or finding the right gears.enjoyed the track, enjoyed the training, but hate getting beat. so i guess I need to make up my mind about doing this right or not. ended up 14th of 24 pros, ten seconds off the podium with a 2:24. bested by a couple am's and juniors to be 19th overall. not bad, not good. you get what you put in. plus most everybody who beat me are lokes and have this place down. did twice as much practice as the top four guys, and my hands paid the price. rode out the day with my older bro, his first day on the bike since major back surgery, stoked for him, and the many groms on the hill. but still crushed Joel wasn't with me, as his progression and experience wa the major motivator for this trip. happy with the bike and the new battle axe. now i gotta clean up, and refocus for the U.S. Open next weekend. It's what I came to do, so now I've just got to focus on my ride and try to not be bummed with the inevitable stomping that Sam Hill, Brendan Fairclough, The Athertons, and Loped will be handing out.
| | | | |
| --- | --- | --- | --- |
| the Battle Axe | a clever replacement for the taco | bolts on with beauty | perfect protection so far info |
| | | | 1 out, but niece is in next weekend |
5.15.09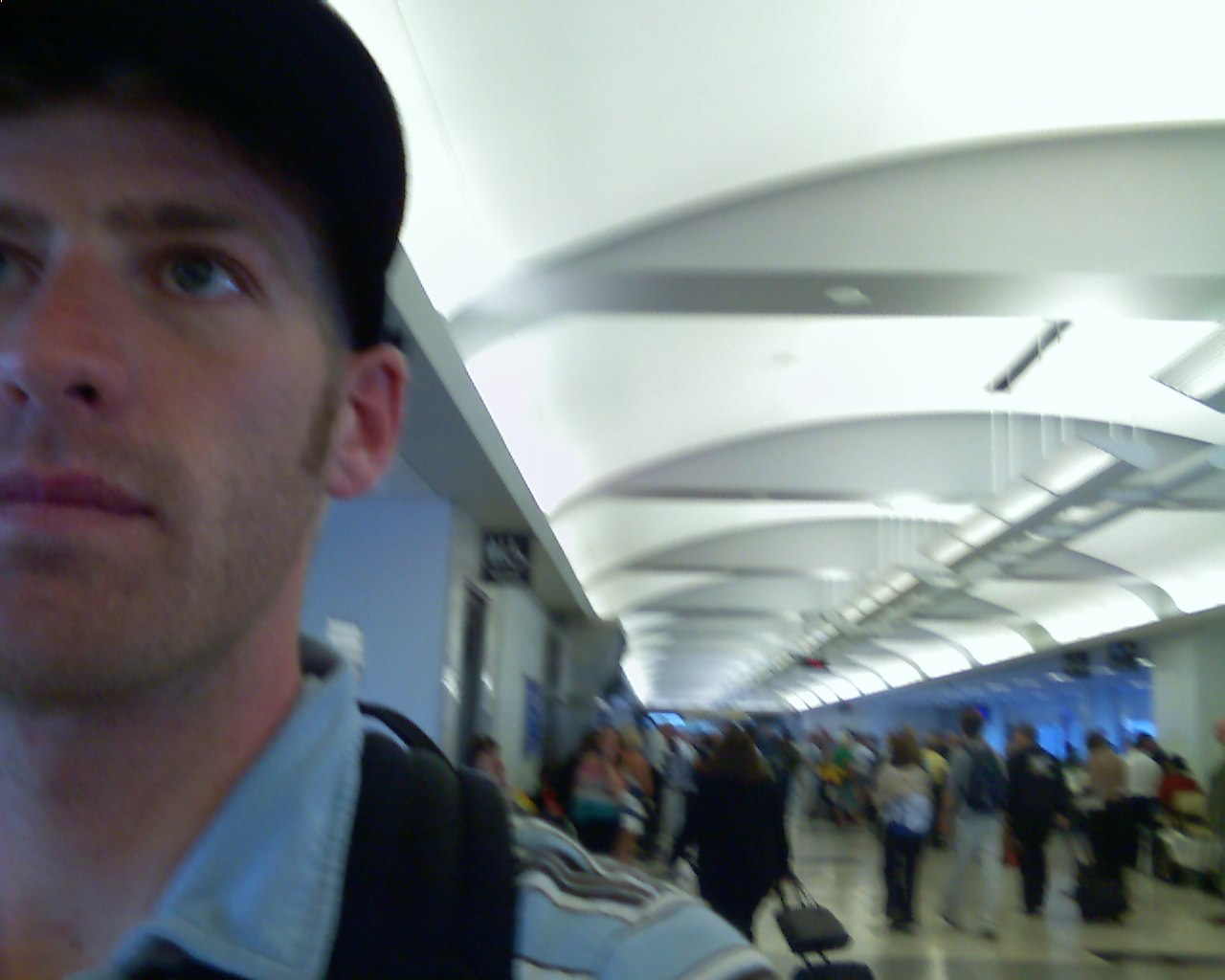 two days and roughly 3000 miles later we're here, my brother and i, in dirty jersey. luckily the place got a good wash last night, awesome lightning show as we flew into philadelphia and torrential downpour as we left airport. apparently it was nice last week, poured last night and 30 percent chance of showers this weekend. means it will probably be slippery, but hopefully not too saturated. we'll find out in less than 24 hours. Diablo Domination number 1 tomorrow, so gotta get the bikes built today, hopefully Joel's show up as scheduled, but if they do then i'm a dunce for paying the three day service. oh well it's never perfect, better safe then sorry... no smell like jersey after a thunder shower, surreal being back after over two years but loving it. woke up this morning to the whispers of me lil nephew and niece, how sweet it is. then of course they farted on joel's head to bring him around, hijinks. more tomorrow from diablo...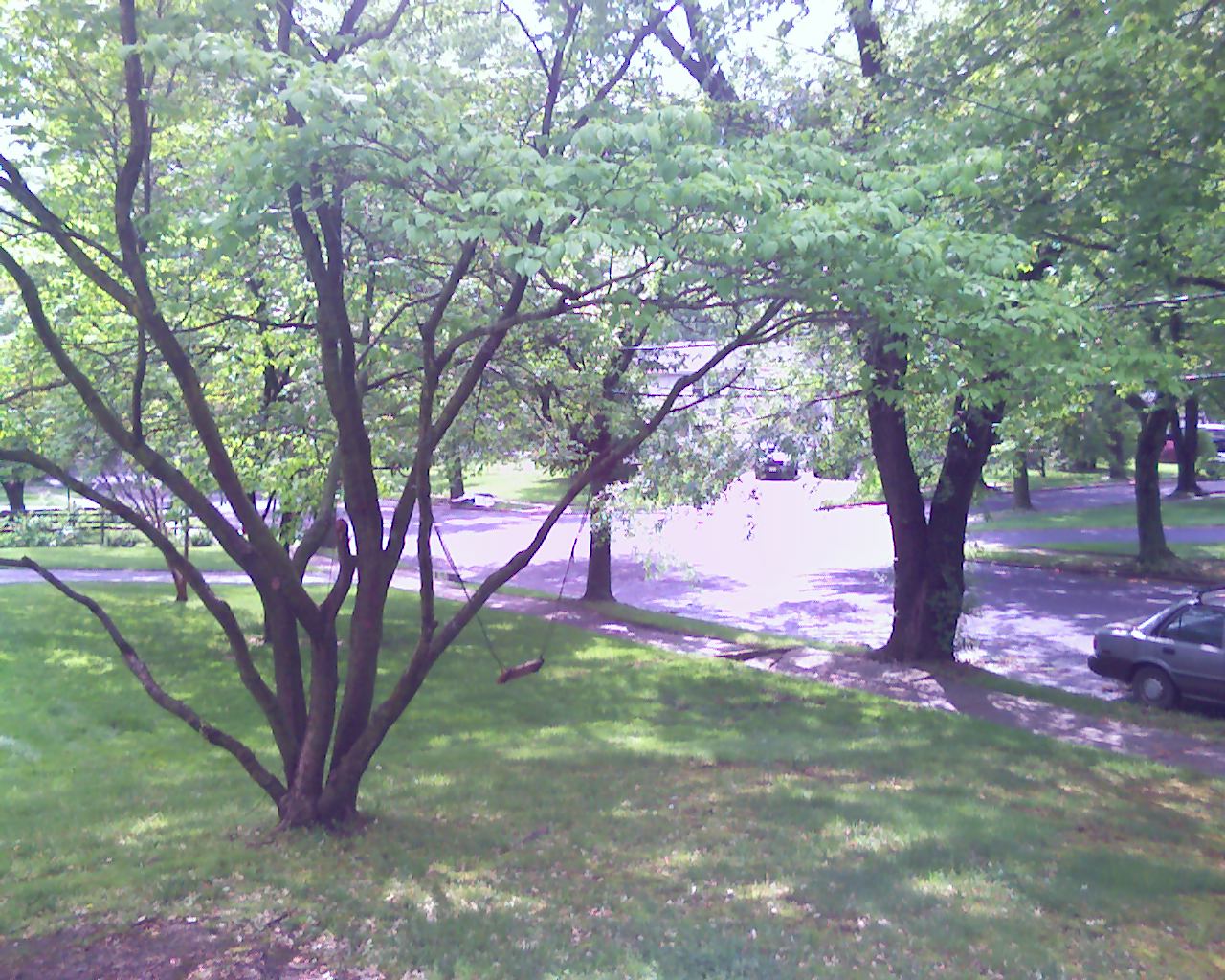 5.12.09
as i sit right now, eating ben and jerry's, enjoying my last karmac rewards for completing the T.U.C., ninety percent packed, leaving in less than twenty four hours, en route to air port, en route to north new jersey and diablo free ride park. weather is iffy. 40 percent chance of rain and thunder showers on saturday and sunday for the first race of the Diablo Domination Series. Then goof off and ride for a few days and go in on the U.S. Open the following weekend. I am going to make an attempt at posting some coverage here. we're dorks, dumb, and archaic. so enjoy it for what it is. alternative media. thinking about my bikes right about now. not dirt tested yet. dialed in the stand, bounced in the driveway, then in the box and across the country. let the thunder showers come, i'm ready, i've got pants.
5.10.09
after a bit the log becomes daunting, because there is so much to say and so little time. Trying to organize my thoughts here on this momentous morning... A proud witness to history today, o'er slept my 4 am alarm to catch the live world cup, but the ol' sixth sense woke me up just in time for the top thirty boys in La Breese. Steve "The G.O.A.T." Peat qualified fastest and backed it up in the final with a ridiculously aggresive and pinned run, banging poles like he was on a slalom. The rain came on for the top ten, and it came down light and steady during Peat's run, but he was still able to crush Hill and the rest of the boys by over a second. Fantastic to see, Thanks Freecaster. Other than that today marks the end of the T.U.C. 2009 so now can shift focus to the next challenge at hand, some east coast DH at Diablo Freeride Park. Will be ou there racing next weekend and the following for a local series race and the U.S. Open. To have the Tour past is a good feeling, especially since I rode my best Tour ever yesterday. Had no expectations as I haven't been doing any training rides over two hours... but mile after mile my confidence grew and felt like I might "be there" at "the wall", the turning point of the race each year... A big part of this I attribute to a better feed strategy. Ate more food and more diverse food then ever before. Of course there were lapses in the schedule, like when I lost my double mix cyto bottle amidst the vietnam potholes in the alby creek section. Thanks to diligent support vehicles it was returned to me later. At about mile 40 something we got to Panther Gap, everybody stopped to pee, and or poop, I rolled through and prepped for the climb. Up panther takes about forty five for me cruising quick. Went too hard there last year trying to bridge up to leaders, so this year focused on rythm and keeping my heart rate lower. Windbigler and I had a solid climb, about 40 pleasant minutes, less thn a minute off lead, then a bombing descent and caught the pack within a few minutes of honey dew. Stoked, my best position ever, knowing if I hung with those guys for a bit I would be ensured a personal best. At mile 63 I rear flatted. As the slow leak progressed, I bobbed to stop, watching the lead pack ride off over the hill. Accepted the obstacle, whatever, too good to be true... made a quick tube swap, but fumbled with my little hand pump. minutes later i was back on the road in no mans land. crested the hill and started ripping the descent making ground, when my shyly inflatted rear tube caught one of the roads many pock marks and pinched. This time the frustration of losing position hit me and the air was filled with colorful words and animalistic roaring. I Stopped. I walked. no one came, no support cars. Out of tubes. Started riding again. Rider passed. Riding slowly. Geoff Hales. Hales stopped and saved the rest of my Tour, gave me a tube, shot it up with the CO2 and we were rolling. Worked together to and through the beach picking up some folks as we went, including Matt Deshazo of Far north Climbing gym. By the end of the beach we were five. Slapped hands and headed up the Wall. started pulling away, almost cramped, kept crawling. passed Chris Johnson who was really crawling, side to side. Didn't feel good, but kept eating and felt bad instead of awful and that was good. Got a V8 from Rocky Brashear at the top of the wall that really hit the spot. Fifteen miles to go I realized I still had a shot at beating my time from last year (5:55) if I finished strong. So I gued up and kept her rollin. Good spirits, gorgeous day. no where else I wanted to be. One minute slower than last year. Stoked. So stoked I decided to ride home to Eureka. Forgot about the cruel north wind that was still whipping. avg speed over one hundred miles 16+ (very hilly). avg speed home (mostly flat) 11mph.
5.09.09
it's 4:17 am, just up, eating some eggs and toast, feeling chipper. The T.U.C. begins in two hours and twenty minutes. Gotta eat now so the food is available then. Pockets are stuffed with some where just under three thousand calories, everything from mom's oatmeal cookies to a flask of "espresso gel". Sounds like a party in the making. Not expectivng any grand performance, not much endurance base training, but the weather should be grand and hopefully the six hourish ride will be enjoyable. another entry awaits on the other side of self discovery, tally ho.

5.04.09
word from the king is there was a crew and they rode the range. his range that is, king's range. Words has it at least eleven folks rode on sunday. some were there saturday night, braving elements which threatned to flood their tents. rewarded sunday with a blessed break in the weather and sweet trail conditions. i was told on monday that the Paradise Royale is best in the wet, tacky, rippy, fun. sad i wasn't there, stoked some friends still rode. no times till next time. may the force be with you.

5.03.09
a bit frustrated with myself and the site and all right now. cased the king's range ride, false expectations of a falsified automobile and an over ambitous body both fell through and left me with no means to lead a ride. again my apologies, my eyes were bigger than my ability. The Pirate tradition is a decade old this year and trying to figure out where it is going to go. not going away, that is all that's clear. not sure quite what the site is offering, haven't been tending to race updates and logs like i should... can no longer over poignant event coverage outside of the area... are we growing, shrinking, dinking? yes yes and yes. i have lots of ideas, but a little less time, so must cut some of the ideas and focus on delivering. and still fit in training somehow...

5.02.09
Well a lot of work just culminated this weekend. A lot of it went great and I am straight up casing the rest. Simply an impossible to do list, eyes were bigger than my capabilities. But got a phat order of new pirate gear thursday, unveiled two sweet local films, and threw a good party all thursday night so that will be my consolation. After our show thursday night celebrated a bit, only to feel like doom the next day and even worse the following night. Missing out on obligtions to the Bike Gear Swap and Talib Kwali... but twenty hours of sleep and nutribiotic and lots of lemon 'n ginger juice has me climbing out of the crash. I won't be camping at King's Range tonight as I had hoped, though some should be. I'm just gonna try to roll out in the a.m. if such passage is possible. That's the thanks I get for keeping my body up late drinking coffee for two weeks.
4.28.09

sitting here, wasting away... least that's what it feels like this week, when i'd rather be actively recovering from and for some hard racing i sit sip coffee and stretch occasionally. for what? to splice down some footage of a tiny local race with like thirty people total in attendance. not a huge audience. but if all goes as planned and some or all of those thirty people get to watch their hohum attincs projected ten feet tall on a wall and smile for me on thursday night it will have been worth the sacrifice. are we there yet???
4.25.09
been a busy couple of weeks with concern to riding. What with the Sea Slaughter Beaver Fest last week, followed by the Lemurian Shasta Classic today. Maybe it's the ass whooping competition or the fact that I missed a career altering junior x podium by two seconds on my first trip that has kept me going back to the sea otter for about eight years now... maybe it's the fact that my first shasta lemurian ended me up on a stretcher that has kept me going back for three xc years now... we may never know. no we do know. at sea otter it's the challenge of an un technical track made technical by the attendance of the best national and international athletes. And as for Lemurian, well it is a freakin man's track that makes me want to cry and whine every time and somewhere inside I seem to think it will get easier someday. Someday when I give up video editing and web blogging and start training like a man... but until then you should all come to our show thursday night to see why it is that I am off the back of the fast guys right now, rather then in their midst. Sea Otter was crazy, first year in Pro. Finally a big bike track, and me wih only 9" of travel between my two wheels. Blew my fork twice in three days of practice. My younger brother Joel had even worse luck, shredding four hangers and two derailleurs in three days, then snappin der cable and crashing in race. I didn't crash but was pretty cautious after getting the family jewels sucked into the rear wheel and the 'ol seat to the gut on my last practice run race day. Fork blew and I screamed like a ninny in right behind the prettiest girl in downhill. See I caught her, layed on the brakes to allow a gap, sprinted back up to an over ambitious speed, then hucked a lil drop to big and almost threw the whole thing away. Luckily was ok for one more, but played it safe and wound up buried deeper than a hatchet from the Simpson trial. Small consolation in that my time would have won my Cat 1 age group, but that's not where I am, I'm Pro so best start training like it.
4.03.09
the age of technology.. the age of viruses... technology is changing, the internet is changing... hope you enjoyed it while it lasted. it's all supposed to make things easier, which should've equated to more time... but sadly it seems to only equate to more time texting and facebooking. so watch out, the virus is spreading and it wants to get it's hands on you. enjoy the outdoors, you may catch a cold, but time will pass slower and you will be better for it. have had troubles with my system and therefore trouble keeping the page up, but we keep cracking. so relax, kick back, do some yoga, do some bike yoga, and maybe send a text message while your at it.
3.24.09
the end of it all... first i apologize for the stale state of this site lately. we are a small company and have been experiencing issues with time and infrastructure. steps are being taken and soon things should freshen up. with that said there are some exciting events on the local horizon. Sea Otter is right around the corner and drawing some serious focus, as I strive to get the legs ready to sprint against the worlds best and wealthiest. This weekend it started to happen, thanks to some fine weather, got in one hundred road miles and a first in the cruiser race at R.E.BMX (can't brag to much about that though as the class' average age was about 40 and I barely pulled it out... I blam the flat pedals) Then our shop is closing on April 25th as we all are headed to Whiskeytown Lake, near Redding, to race the epic Lemurian Shasta Classic. Up to 24 miles of rocky goodness, can't wait. The beginning of May is going to be high times for local Piracy. Friday evening May 1st will be the premiere of some HoHum local films at the North Coast Climbing Gym in Arcata. Documentation of this winters cyclo cross races coupled with a short shining documnet of last years T.U.C. titled "Event Support" will be shared, along with the world debue of DJ MickStickinChicks... Flyers out soon... then that weekend head on down to the Lost Coast west of Redway to rage the Paradise Royale trail with us. Pre riding Saturday the 2nd, camping that night, and riding again on the 3rd with optional check point timing for those studs who want to shralp the superbly sculpted gnar that has been laid out for us in the Kings Range Recreation area. This get together will be friendly, casual, free, and all are welcome. A lot to do between now and then... In the meantime there are insanely fun/fast road rides going out every Tuesday night at 6pm, at the Giuntoli side of West End Road. Made my first of the year tonight and had a blast. Hammered my guts to mush trying to keep up with the more conditioned roady contingent, threw up a little in my mouth, yelled encouragement, and loved it. A better high than those empathy exaserbating drugs so many love. By the end everyone were close comrades, all very supportive of everyone's effort, slapping fives, sharing our lives, and feeling very content. Looking forward to having more juice next week, but i'll need all six days to recover. Suppose I'll take adavantage of our local BMX races Friday night to mix it up. Suppose I'll Have one more P.B.R. to recover tonight cause they taste so good. The end of it all. You see there are two sides to the coin. Many people are ready for it all to come to a flaming end in three years when the Myan calendar runs out in 2012. For some this is an excuse for total apathy, I'm trying to look at it as an excuse for absolute urgency. To extract the best, brightest, and most positive results in the time we have left. We have the choice.